Tree Topping & Trimming
Tacoma-Area Tree Topping & Trimming Services
Our team at Apex Tree Experts is happy to work with our clients for all of their trimming and pruning needs in the greater Tacoma, Gig Harbor, and Lakewood areas.
When most people think of tree pruning, they think of aesthetic value — it is little known that pruning and trimming are actually beneficial to a tree's health. Annual pruning removes dead, diseased, or broken limbs. The pruning of fruit trees encourages growth and fruit development. Trimming of conifers encourages growth as well, but not always the kind you would prefer.
Topping is the cutting back of tree branches to stubs. Quite often, topping and trimming results in fir trees forming a "U" shape at the point of the first cut, giving an abnormal appearance and weakening the structure of trees that can grow well over one hundred feet tall. The legs, or lateral branches, are not large enough to assume the terminal or main trunk role. Other names for topping include "heading," and "hat-racking."
Many homeowners often feel that some trees become too large for their property. They fear that tall trees may pose a hazard in wind storms. While topping does not reduce the hazard, it is sometimes necessary.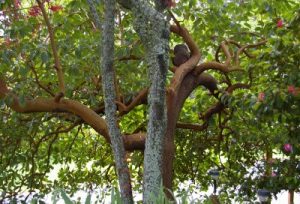 Tree trimming and pruning opens up the tree canopy to maximize light penetration. Although a mature tree may be growing in full sun, a very dense canopy may not allow enough light to reach only a foot or two inside the canopy — making the lower branches decline in health. Opening the tree canopy permits adequate air movement through the tree, which promotes rapid drying to minimize disease infection and allows thorough pesticide penetration. Light penetration also allows some of the same benefits and encourages growth on lower shrubs and flowers.
Trees that are crowded and fighting for space usually reduce the overall beauty of a well-thought-out landscape. Find out more information about how our tree trimming and topping services can help you by calling (253) 227-9775.
Get In Touch With Our Tacoma Tree Trimming Team
Tree trimming and topping is an incredibly important service that we offer to the greater-Tacoma area. Not only does this service help to maintain the aesthetic value of your commercial or residential property, but it also helps to promote the overall health of your trees.
Whether you are looking to trim fruit or flower trees to promote increased yields, trimming trees to improve overall health, or trimming trees for aesthetic reasons, Apex Tree Experts is here to help. If you have any questions about our tree trimming services, we encourage you to contact us and ask.
To find out more information about trimming and pruning of trees and hedges, or to get a tree trimming quote, please call (253) 227-9775.